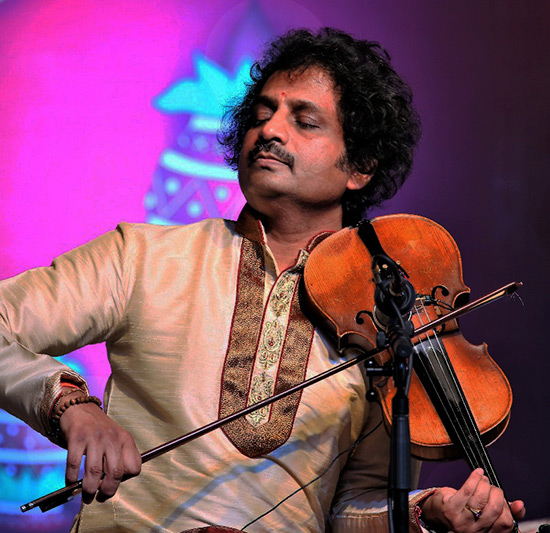 Mark and Laura had the great good fortune to meet the brilliant Indian classical violinist Dr. Mysore Manjunath awhile back and the great love and mutual admiration we have for each other is a deep and special gift. We've been wanting him to be a guest artist at MWROC for years but, due to travel and scheduling issues, it has not been possible… until NOW. Manjunath has graciously accepted our invitation to teach a master class and grace us with a performance and we could not be more excited, thrilled, and honored.
Amazingly gifted violinist Dr. Mysore Manjunath, the son and disciple of renowned violinist Prof. S.Mahadevappa, was a remarkable child prodigy who matured quickly to emerge as one of the top ranking Violinist in India today. His exceptional musical talents were first revealed at very tender age of Eight when he stormed in to the music world sweeping all the music lovers & critics off their feet by his extraordinary musical acumen and technical virtuosity.
From child prodigy to trail blazer, captivating audiences & critics, Dr. Manjunath has created an amazing record as Star performer in prestigious organizations world over. From Royal Albert Hall in London to Sydney Opera House, from Common Thread Music festival in Oregon to Oxford University, from Santa-Fe festival in New Mexico to World Music Festival in Chicago, from Esplanade Theatre in Singapore to Federation Square in Melbourne, Dr. Manjunath has enthralled audiences all over the world.
The Los Angeles Times warmly noted that Manjunath has "crossed over so many boundaries, that his style is purely personal." He has brought laurels and glory to the field of Indian classical Music with the great sitar player Bharath Ratna Pandith Ravi Shankar admired and complemented his music and called him the 'Prince of Mysore' when he attended the live concert of Dr.Manjunath in San Diego in 2012. Manjunath recently performed the first ever Indian Violin concert at the prestigious Oxford University in May 2018.
Dr. Manjunath has repeatedly enthralled audiences all over the world in over 30 countries. He is indeed true cultural ambassador of India who continues to preserve and spread the rich cultural heritage of Indian classical music, in all its glory.