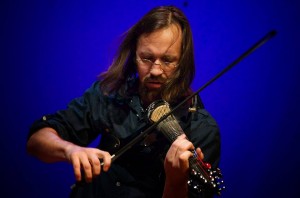 Chuck Bontrager is the very definition of the the 21st-century violinist: classically trained, yet experienced in multiple performance styles; fluent in several variations of his instrument (viola, chin-cello, mandolin, and especially his 7-string Viper electric violin); capable as a performer, arranger, and conductor; and wholly dedicated to the advancement of his instrument and the education of new generations.
As a performer, Chuck has appeared with every major symphony orchestra in the Chicago area, including the Chicago Sinfonietta, the Lake Forest Symphony, and the Chicago Symphony Orchestra. He has performed in theater orchestras in over twenty productions on the Broadway In Chicago series as well as productions with Drury Lane Oakbrook, Chicago Shakespeare, Court, Northlight, Steppenwolf, Marriott Lincolnshire, and The Goodman theaters. He also performs regularly as String Captain with local tribute giants Tributosaurus, and his Tool tribute band, Vicarious.
As an educator, Chuck teaches at Columbia College Chicago and the Merit School of Music. He is an experienced private lesson and group class teacher, chamber coach, Rock Band instructor, and clinician; his Metal Violin demonstrations are a frequent addition to local school curricula, most recently at Washington Jr. High School in Naperville, Illinois, and with the Audience Matters outreach program sponsored by the Chicago Sinfonietta.
Connect with Chuck:
Facebook
What to expect in Chuck's classes:
Using your axe in a Metal Band – gear, techniques, and attitudes
Insane Gain – finding and using an uber-distorted sound
Re-Ruption – learning, adapting, and expanding iconic guitar solos
Be The Band – transcribing the charts and leading the string section on the next big tribute show
Surviving The Four-Gig Day – tips and tricks for the modern multi-style freelance instrumentalist