A place for adventurous musicians and vocalists to
explore the exciting creative terrain of
IMPROVISATION, PERFORMANCE, and TECHNOLOGY.
July 13 – 19, 2014
OUR 5-YEAR ANNIVERSARY
at MidAmerica Nazarene University, Olathe, KS
CLICK HERE to add your name to our mailing list so we can keep you informed about registration!
Improvisation:
• Tools to help you discover your own voice
• Learn to jam with other musicians
• How to give your ears priority over "dots on the page"
Performance:
• Be part of an international rock orchestra
• Participate in ensembles
• Nightly talent showcases
Technology:
• Learn 21st century composition and recording methods
• Proper use of outboard gear – pedals, amps, effects
• How to build and maintain your electric instrument
Whether you're an educator, a student, a professional musician, or an adult amateur, MWROC has something for YOU. With courses for string players, vocalists, guitarists, and electric bass players, there are even more reasons to attend this year.
Learn critical team-building skills by working with musicians and singers from all different backgrounds and abilities.
Expand your creative horizons and learn groundbreaking methods from Mark and his world-class faculty: Rachel Barton Pine, Daniel Roumain (DBR), Tracy Silverman, Dr. David Wallace, Joe Deninzon, members of The Mark Wood Experience (Mark's touring band), and MORE!
Be part of an international rock orchestra led by Mark Wood and participate in intensive workshops with Mark and his faculty of high caliber world-class musicians, culminating in a final concert with all campers and faculty on the last night.
We'll teach you all the important skills you'll need to express yourself creatively on the highest level possible!
Tuition includes lodging and meals for the duration of your stay.
*Check-in is on Sunday, July 13; check-out is Saturday, July 19.  For more information about our schedule so you can make your travel plans, please visit our Sample Schedules page.
---
CLICK HERE or on image below to download a pdf version of our flyer.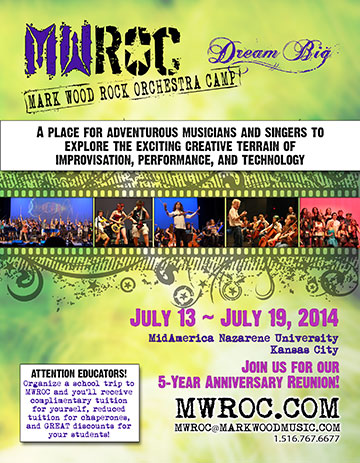 ---
THANK YOU TO CAMPERS, FACULTY, AND STAFF FOR MAKING MWROC 2013 THE BEST ONE YET!!
"I am so impressed and inspired by the level of energy and commitment everyone brought to MWROC this year! This year's camp was truly one of the finest moments not only for me but for all my wonderful faculty and staff as well. It has been a vision of mine for many years to provide a place for innovation, inclusiveness, experimentation, freedom of expression, and exploring roads less traveled. It is incredibly exciting for me to watch my vision take roots and grow to such amazing heights in the course of only three years… thank you for being a part of it!" - Mark Wood
---
Testimonials from MWROC attendees:
It was so nice to be in a place… that everyone supports each other, is positive, and has the passion for music just as I do. I've been to many camps/workshops, but this one is different. My only hope is that one day I can influence the lives of others as you have influenced me. You … made us want to … break down another layer of that barrier holding us back from greatness.
- Lacie (educator/camper)
All of the students are truly blessed with the priceless gift of being able to learn from the most talented musicians on the planet! It is truly touching that this amazing faculty "gives back" by giving their time and talents to educate and inspire the artists of tomorrow! I know Kevin's life will forever be influenced by his experiences at MWROC! A huge thanks to Mark Wood all for giving the artists of tomorrow this amazing opportunity!!!
- Michelle (parent of camper)
Thank you to the faculty for teaching us the things that will stay in our musical vocabulary for the rest of our lives and that will guide us to our musical successes.
You have shown me both how to sing and feel it and how to POUR my heart and soul into the sound that is coming from my instrument…
- Abby (student/camper)
What an amazing week! I feel like the luckiest guy on earth to be able to go to a place like MWROC, work with such an amazing cast of colleagues who I have an equally deep love and admiration for, and to teach and be inspired by so many incredible and talented students. Pinch me if this is a dream. Hope to see you all next year. Keep rockin!!!
- Joe Deninzon (faculty)
"Thank you everyone for such a great week! The MWROC experience was so amazing and made me a better musician and teacher. I started teaching private lessons again yesterday and I'm already incorporating stuff that I learned."
- Tarvia Bell
"MWROC is a time that I set aside just for me, a time to recharge my inspirational battery… it's a time to forget about day to day problems… it's a time to focus on music, creativity and friends."
"MWROC was amazing, well organized and had an impressive faculty! I would (and have!) recommend it to anyone– student OR educator!"
- Sara
"By far the best!!! World class faculty that are always willing to help out, AMAZING concerts, I get to perform with outstanding musicians from all over the country, and I always make awesome friends that become like a second family! No other music camp has had such a huge impact on my life!!"
- Nick Schafer
"I want to personally thank Mark and Laura (and everyone for that matter) for giving of themselves. You all showed tireless dedication to making this a great experience for everyone. You have created a safe and comfortable environment to connect and create.  I can't tell you how impressed I was with your professionalism and commitment to details."
- Fred and Austin Warmbier