CHECK OUT A SAMPLING OF THE GREAT SELECTION OF INSTRUMENTS AT THIS YEAR'S MWROC!
As in past years, the Wood Violins team of master craftspeople have been hard at work building an assortment of custom instruments for you guys. Plus, we always have a great selection of Stingray SVX's and our Wood electric violin amps.
And, because of your MWROC artist status, we are offering ALL of them (including anything special-ordered at camp) for 35% off suggested retail from now until 30 days after camp ends.
---
The "fur" on this 6-string fretted Viper is so realistic-looking that you'll be tempted to pet it! What we know for certain is that it WILL purr when it finds its forever home. Complete with a Barbera pickup and a stunning matte finish, we know you guys will all fall in love with the Viper Cat.
Every inch of this remarkable one-of-a-kind Viper was painstakingly etched by artist extraordinaire Chris Compston.
---
THE KING COBRA
The King Cobra was originally designed and built for Emil and Dariel, the incredible orchestral rock duo who were finalists in NBC-TV's hit TV show, America's Got Talent, and who were our guest artists at MWROC last year.
This year, we decided to build one just for MWROC.
The King Cobra is the next step in the evolution of future cello design but don't let its extra venom and radical design intimidate you! It has all the reference points and comfort zones of your beloved acoustic cello.
The centerpiece of the King Cobra is the same groundbreaking design as our traditional Cobra but with added elements that will satisfy the comfort level of even the most traditional cellist.
Click here to find out more about Emil & Dariel and watch a great video demo of the King Cobra.
---
THE "PINK PANTHER" KATANA SABRE
The Katana Sabre is our line of ultra light semi hollow body electric violins. Based on our popular Sabre design, the acoustically chambered body enriches low-end bridge response while keeping the weight down, and the ergonomically contoured body cradles the player for maximum playing comfort.
The Pink Panther's sparkly rich pink body is accented by a purple headstock and purple burst around the edges. 
---
OWN A VIOLIN JUST LIKE MARTIE MAGUIRE FROM THE DIXIE CHICKS!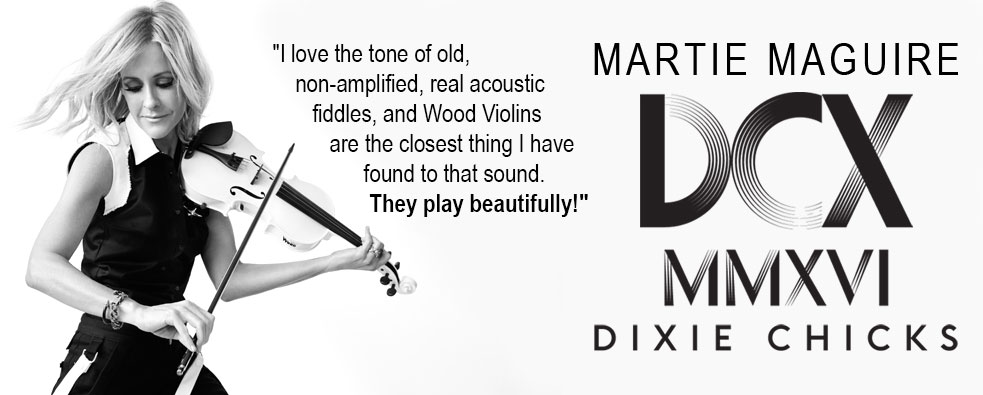 We are proud and honored that Martie Maguire chose our 5-string Nashville and 4-string Concert Series models as her exclusive electric violins for the Dixie Chicks DCX MMXVI Tour and one of each will be available at MWROC.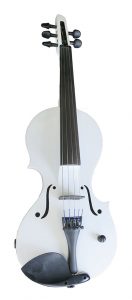 The Nashville (pictured left) electric violin is our newest model and was created to appeal to the country music market. Its design is perfect for players who want a great looking and sounding electric violin that still maintains a "traditional" vibe.
The Concert Series (pictured above, with Martie) is an acoustic/electric instrument that can be incorporated into any 21st century musical experience.
All 7 of the violins we provided to Martie were painted white to match the Dixie Chicks' tour colors, and they all feature our Wood Tru-Tone pickup and D'Addario Prelude strings.