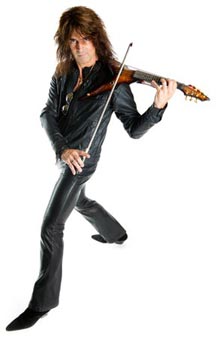 Mark Wood, award winning composer, international recording artist, and electric violinist, is widely acknowledged as the premier electric rock violinist of his generation. Mark studied under maestro Leonard Bernstein at Tanglewood and attended the Juilliard School of Music on full scholarship, which he left to pursue his vision of bringing rock violin into the mainstream.
He was a member of Trans-Siberian Orchestra for 13 years; receiving two platinum and three gold records from his work with them, and has toured and performed with Billy Joel, Celine Dion, Dee Snider's Van Helsing's Curse, Lenny Kravitz, Steve Vai, Roger Daltry of the Who and Jewel.
Mark has been a featured guest on The Tonight Show with Jay Leno, and has had numerous articles written about him. Arnold Steinhardt of the Guarnari String Quartet said in his new book Violin Dreams that "…Mark Wood is the future of violins."
In the capacity of composer, Mark won an Emmy award for music he composed for the Tour de France bike race on CBS-TV and has received three additional Emmy nominations for a variety of film and television projects, most notably for the music for a Winter Olympics opening show.
As an inventor, Mark created the first solid body electric violin in the early 1970's and established Wood Violins, a company whose mission is to make Mark's incredible instruments available to the general public. Mark is known as the "Les Paul of the violin world" (a phrase first coined by PBS).
Mark was honored to serve on the board of the American String Teachers Association (ASTA), where he had the opportunity to affect the future of progressive string education in our country on a truly grand scale. Celebrating its 10th year, Mark's Electrify Your Strings!™ series of music education programs has become enormously successful and in demand as educators across the country are quickly catching on to the importance of incorporating alternative teaching methods into their curriculum. EYS has really captured the media's attention and has been featured on NBC-TV's The Today Show, and many others.
Electrify Your Strings, Mark's definitive electric violin method book (published by Cherry Lane and distributed by Hal Leonard) is the first in a series of books that Mark is working on and is geared towards students and educators alike.Also of note:
Mark starred in a national TV ad campaign for Pepsi, featuring a Kanye West produced hip hop version of "The Devil Went Down to Georgia" (with the rapper Nas).
Mark also toured with Billy Joel in 2008 and was with him for both historic final concerts at Shea stadium, performing alongside Paul McCartney, Roger Daltry, Steven Tyler, and more.
WLIW21, the third largest public television market in the U.S., broadcast The Mark Wood Experience – Prologue (available on CD and DVD) and a larger special is in the works.
Mark is currently working on his latest CD. You can find out more about Mark at www.markwoodmusic.com, www.woodviolins.com and www.electrifyyourstrings.com You can also visit him on Facebook!
MARK LEADS THE ZEPPELIN ORCHESTRA – What to expect in Mark's classes:
"The fretted violin" featuring Bach
Improvisation 101
Electric strings and effects
Viperisms: Exploring the art of the Viper
How to utilize distortion with strings
The art of the solo – 2/4/8/16 bars
Blues and pentatonics
How to use your ears
Leading the Zeppelin Orchestra, for advanced players
---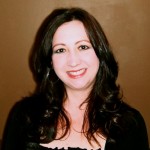 MWROC's Executive Director Lisa Batson has gained a reputation as a creative and dynamic orchestra director in the Houston area. Presently, she is an orchestra director at Space Center Intermediate School where she built the program to include approximately 200 students. SCIS has won consecutive UIL sweepstakes, been a finalist in the Texas State Honor Orchestra competition numerous times, and has been invited to perform at the state Capitol in Austin for the "Go Arts Day" three times. The Space Center Orchestras have enjoyed performing concerts along side Mark Wood. Lisa also coordinated a weeklong district Electrify Your Strings! event that included over 1,200 students with the entire Mark Wood Experience with an audience of over 5,000.
She was also a conductor with the Greater Houston Youth Orchestra and currently conducts and is the Artistic Director of the Bay Area Youth Symphony. As the founder of "Sizzling Strings Summer Camp" in the Houston area, Lisa encourages string students to study jazz and rock styles. She received her Bachelor of Music Education from the Crane School of Music, State University of New York at Potsdam. After completing her degree, she was awarded a full teaching assistantship at Kent State University where she earned a Master degree in Music Education with a concentration in string pedagogy. Feel free to email Lisa any time with questions about MWROC!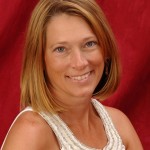 MWROC's Assistant Director Janette Hess is the orchestra director for Clear Creek ISD's Science Magnet School, Seabrook Intermediate, which is located in the heart of NASA's Mission Control. Under her direction, the Seabrook orchestras have tripled in size. Superior ratings at festivals and competitions are the norm for Seabrook. Janette's program is truly out of this world now that they have performed for the Astronauts on the International Space Station!
She earned her Bachelor's in Music Education from Kent State University where she studied cello with Moshe Amitay. She holds a Master's degree in Educational Management from the University of Houston Clear Lake. Organization is a gift; as she has served as Region 17 orchestra division chairman, organized several district-wide orchestra festivals for the beginning orchestra students, and served on numerous campus and district-level committees. In her free time she is a mom to 2 active teen-agers and is an avid runner & swimmer.

MWROC's staff includes the following incredible musicians, many of whom will be returning for 2014!
---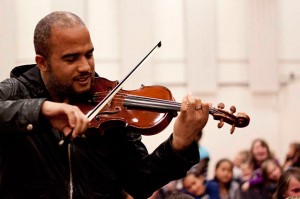 DBR (aka Daniel Roumain) is the newest addition to the MRWOC 2014 faculty and we could not be happier! His acclaimed work as a composer and a performer has spanned more than two decades, and has been commissioned by venerable artists and institutions worldwide. Proving that he's "about as omnivorous as a contemporary artist gets" (New York Times), Roumain is perhaps the only composer whose collaborations span the worlds of Philip Glass, Cassandra Wilson, Bill T. Jones, Savion Glover and Lady Gaga.
Roumain has performed with countless symphony orchestras in some of the most prestigious venues in the world. Additionally, DBR's music has been performed by the Brooklyn Philharmonic, Cincinnati Symphony, Des Moines Symphony, Detroit Symphony, Memphis Symphony, New World Symphony, New Jersey Symphony, Noord Nederlands Orkest, and the Vancouver Symphony, among many others. His most recent orchestral work, Dancers, Dreamers, and Presidents, is a 2010 Sphinx Commissioning prize and is being performed at many orchestras of an esteemed consortia.
Roumain was the first artist to be awarded Arizona State University's prestigious Gammage Residency, "a three-year commitment to an extraordinary performing artist that includes performance, creative time and resources, intensive training for ASU students and local artists and engagement with many of the local communities." His outreach and residencies have garnered extravagant praise and long-term relationships with countless universities, orchestras, and performing arts centers  He served as Chair of the Music Composition/Theory Department and Composer-in-Residence at The Harlem School of the Arts.
Recent work includes a third commission for the Brooklyn Academy of Music (Symphony for the Dance Floor), and a new work for the Atlanta Ballet (Home in 7) in collaboration with the choreographer Amy Seiwert and the poet Marc Bamuthi Joseph.  Roumain has recently performed at The Macau International Music Festival, Ten Days in Tasmania, Central Park SummerStage, 2010 Vancouver Winter Olympics and the Sydney Opera House.
Roumain earned his doctorate in Music Composition from the University of Michigan under the tutelage of William Bolcom and Michael Daugherty.
Find out more about DBR:
www.danielroumain.com
www.facebook.com/dbrmusic
www.twitter.com/DBRmusic
www.soundcloud.com/danielroumain
"What to expect in DBR's classes" coming soon!
---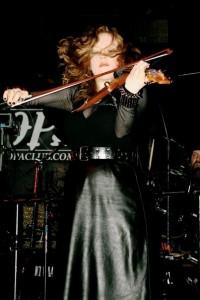 Rachel Barton Pine - It's easy to be intimidated by the sheer immensity of Rachel Barton Pine's accomplishments. The young Chicago based violinist has performed on stages all over the world in front of hundreds of thousands of people, released 13 albums, won countless prestigious awards, and played with musicians ranging from Placido Domingo to Jimmy Page. Yet throughout her career, Rachel has worked to demystify classical music and bring it to audiences for whom it has not been easily accessible. Groups as various as inner city children, sports fans, music students in developing countries, and even her fellow rock fans have been enriched by Rachel's devotion to music and the infectious enthusiasm with which she shares it. Rachel performs with orchestras all over the world, as well as with many of rock's biggest names.
Rachel's new album Violin Lullabies debuted at No.1 on Billboard's Traditional Classical Albums chart, as No.1 on the Amazon Best Selling Classical List, and as No.2 on the US iTunes Bestselling Classical list!
In between performances in revered classical music venues the world over, Rachel also tours with her metal band, Earthen Grave.
As a young virtuoso, she uses her fame to extol the virtues of ALL genres of music – and her Viper helps her spread the word!
Find out more about Rachel Barton Pine:
www.rachelbartonpine.com
www.facebook.com/rachelbartonpineviolinist

What to expect in Rachel's classes:
Thrash 101 – learning some of the most challenging and fun riffs to your favorite metal tunes
Rocking Out Unplugged
Monster Shredding – to keep your chops in shape
World's Greatest Cover Band – how to arrange your favorite tunes for a chamber ensemble
---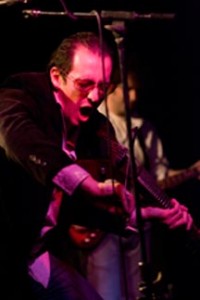 Joe Deninzon has been hailed by critics as "The Jimi Hendrix of the Violin" because of his innovative style on the electric seven-string violin and his compositions combining jazz and rock with Gypsy influences. A musician who transcends many genres, he has worked with Sheryl Crow, Bruce Springsteen, Phoebe Snow, Everclear, Ritchie Blackmore of Deep Purple, Smokey Robinson, Aretha Franklin, Robert Bonfiglio, and Les Paul among many others. He has also performed as a solo electric violinist with the New York City Ballet for Richard Einhorn's "Red Angels." and has performed, co-written, and musically directed the of Broadway show, "Spider Dance" with percussionist Alessandra Belloni.
Joe is the lead singer and violinist for the band, Stratospheerius, who have just released their fifth CD, "The Next World," on Steve Vai's Digital Nations label, and were named "Best Jam Band" in the Musician's Atlas Independent Music Awards. He can be heard on over a hundred CD's and jingles as a violinist and string arranger.
A 12-time BMI Jazz Composer's grant recipient and a winner of the John Lennon Songwriting Contest, his original music has been featured on CMT, MTV VH1, Comedy Central, National Geographic, the Travel Channel, the History Channel, and most recently, the Will Ferrell/Adam McKay-produced film "Virginity Hit". Joe has released a CD with his Acoustic Jazz Trio featuring guitarist Steve Benson and bassist Bob Bowen, entitled "Exuberance". He is also a member of the Sweet Plantain String Quartet, which combines classical, jazz, hip-hop, and Latin styles.
What to expect in Joe's classes:
Fiddlefunk: Using the violin in a funk or hip-hop band
Rhytholin: Chopping, scratching, and comping on the violin
The "Effective" Violinist: Working with effects in a solo or composition
Fusion Violin: Mahavishnu, Jean-Luc Ponty, and original songs.
Singing and playing/ arranging violin parts around vocals
Rocking out your string quartet
---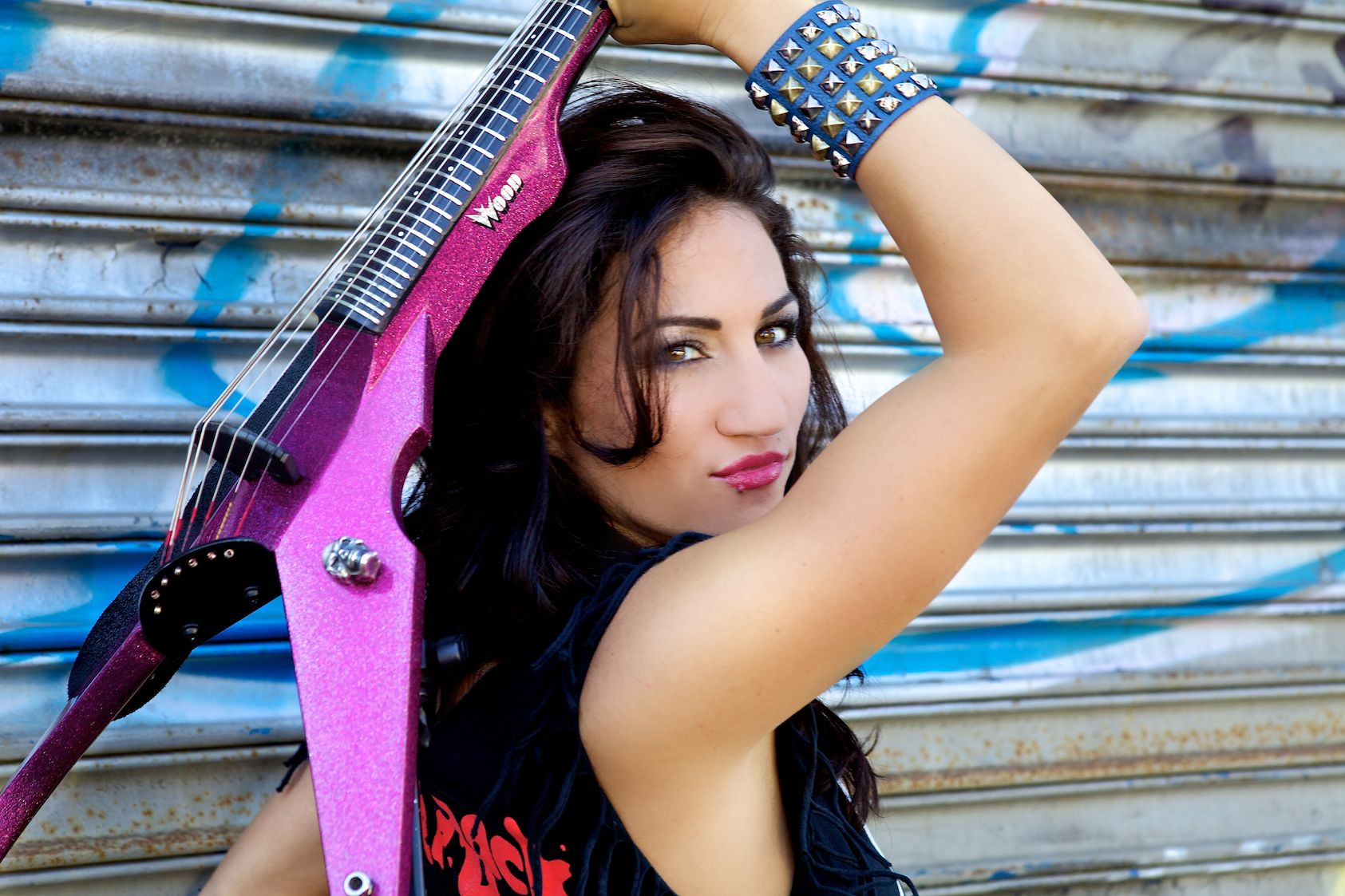 Bridgid Bibbens is a classically-trained violinist who has performed with major artists in the rock, pop and jazz worlds, such as Christina Aguilera, Tommy Lee, Mary J Blige, Jay-Z, John Mayer, Alicia Keys, Josh Groban, and Harry Connick, Jr. Television appearances include NBC's Today Show, the CBS Early Show and The Late Show with David Letterman. She's played to sold-out audiences in major venues throughout the US, including Madison Square Garden and Boston's Banknorth Garden. She's also performed with Mark Wood and the Mark Wood Experience on numerous occasions, including a video for PBS and performances at the 2008, 2009, 2010 and 2012 NAMM shows in Anaheim, CA.
Bridgid was also recently featured in an interview in Guitar World magazine and has been featured in ads for Bugera amps in Guitar World, Guitar Player, Guitar Legends, and several other magazines, proving yet again that the Viper is poised and ready to infiltrate and dominate the mainstream rock world!
Bridgid has been trained intensively by Mark Wood using his groundbreaking educational methods in conjunction with his Electrify Your Strings!™ series of music education programs. She now travels the country with her Viper, sharing her passion for music of all genres with orchestra students in public schools all over the country.
Find out more about Bridgid:
www.bridgidbibbens.com
BRIDGID LEADS THE BEATLES ORCHESTRA - What to expect in Bridgid's classes:
Classes for teachers utilizing Mark's "Electrify Your Strings" method book on how to incorporate improvisation and rock into the public school orchestra classroom and the private studio
Leading the Beatles Orchestra, for beginners and intermediate players
---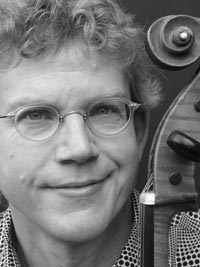 Sean Grissom has been an integral part of the MWROC faculty since our inception. We're thrilled to announce that he's returning for MWROC 2014!
Internationally known as the 'Cajun Cellist', has performed his unique brand of Country, Cajun, Classical, Swing, and Rock music from the streets and subways of New York City to the concert halls of Europe and the Far East. "O'Cello" – his hit one-man show – runs the gamut of musical tastes and vaudeville humor… proving that you can NEVER have enough cello! Sean has been on the forefront of the 'Alternative Styles' development, and has performed at World and American Cello Congresses, as well as numerous festivals. He is an active board member of the Violoncello Society, and is on the board of the New Directions Cello Association.
On the rock front, Sean has been performing in original music groups since he first starting playing on the streets of New York. He has played all of the clubs in New York from CBGB's to Webster Hall and beneath Madison Square Garden. He did three tours with his final mentor – Papa John Creach, of The Jefferson Airplane and Hot Tuna- both here and in Europe. Because there is ALWAYS room for cello, he has performed and recorded with many of New York City's singer/songwriters.
What to expect in Sean's classes:
Cello explorations
Cajun styles and fiddle styles on cello
Unique arrangements of all styles of songs for cello
A spectacularly great time
---
Tracy Silverman -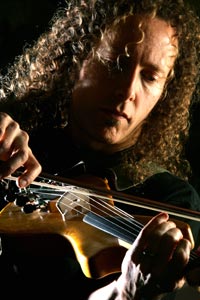 Lauded by the BBC as "the greatest living exponent of the electric violin",  Tracy's groundbreaking work with the 6-string electric violin defies musical boundaries. The world's first concert electric violinist, Silverman was recently named one of 100 distinguished alumni by The Juilliard School. Formerly first violinist with the innovative Turtle Island String Quartet, Silverman premiered "The Palmian Chord Ryddle", written for him by legendary composer Terry Riley, with the Nashville Symphony at Carnegie Hall in 2012.
Silverman has worked with a who's-who of rock, new music, and jazz, including Pulitzer winner John Adams, who composed his electric violin concerto, "The Dharma at Big Sur," specifically for Tracy, recorded on Nonesuch Records with the BBC Symphony. Silverman tours internationally as a soloist with orchestras, with his one-man performances, and as a collaborator with many other artists and chamber ensembles.
Tracy teaches at Belmont University and Vanderbilt University and lives in Nashville, TN.
Find out more about Tracy:
TracySilverman.com
What to expect in Tracy's classes:
Strum Bowing – Tracy's method of rhythm bowing techniques
Blue Strings – A simple and slightly choreographed and lyricized approach to the blues
How to Jam – How to jam outside the fiddle tradition of jamming; jamming with a jazz or rock band
Playing Over Jazz Chords – Learning how to use inner melodies in jazz chords as the basis for creating a solo
---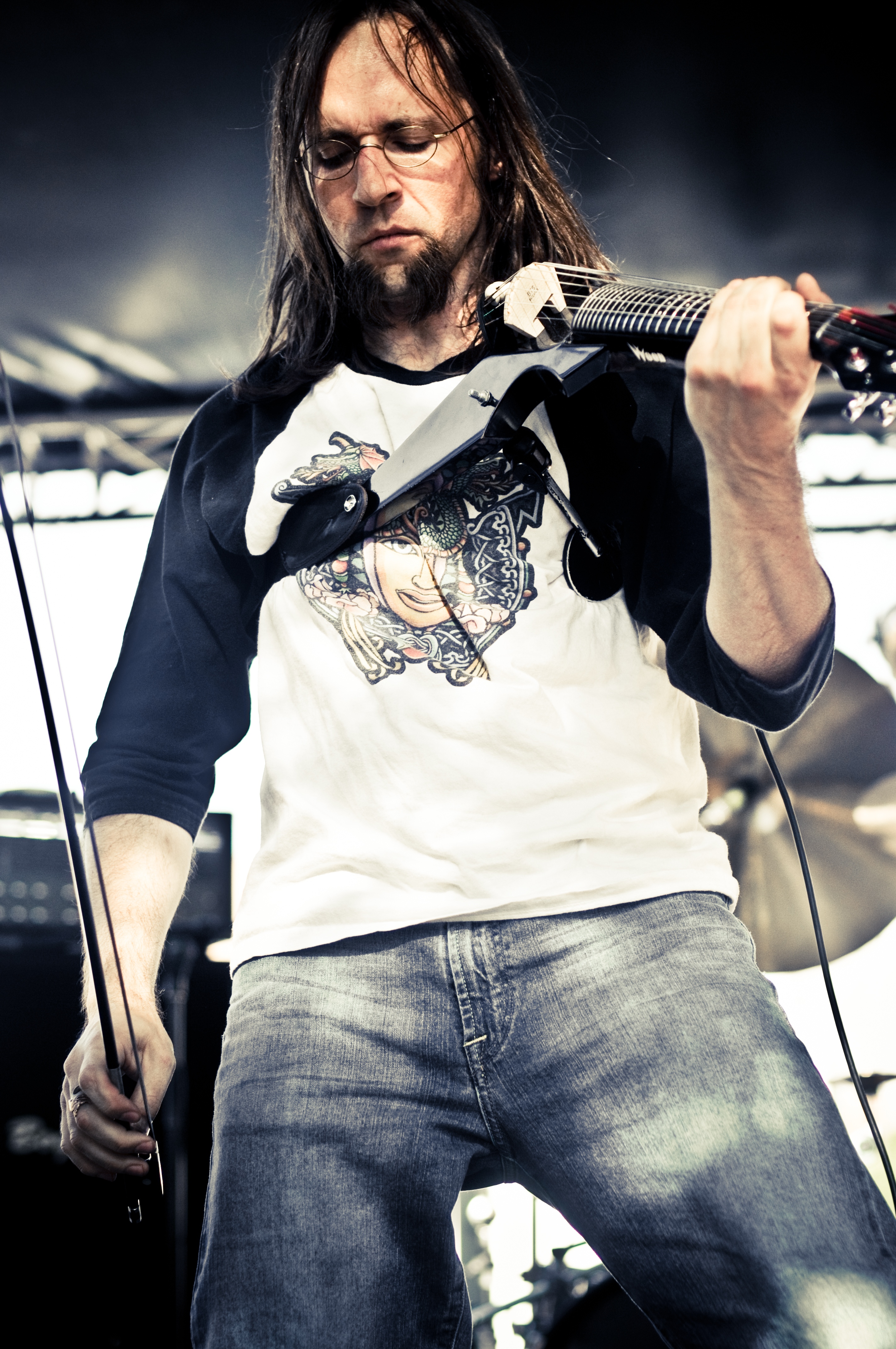 Chuck Bontrager uses his Viper to play lower than most cellos and louder than most guitars in Chicago-based bands Vicarious TOOL Tribute, KAZY, and Tributosaurus. You can also find him playing "regular" with the Lake Forest Symphony, the Chicago Sinfonietta, the Joffrey Ballet Orchestra, and the occasional Broadway in Chicago production; and he teaches at the Merit School of Music and Columbia College. He is ridiculously stoked to be bringing Vicarious to MWROC this year!
Band bio:Vicarious TOOL Tribute re-creates and re-interprets the wide spectrum of Tool's musical and visual language with respect and originality, using alternate instrumentation to produce literal and re-imagined song versions. Their live shows integrate original visual elements with their take on Tool's already arresting presentation. Lineups vary according to the venue, but they are known to incorporate disciplines such as video projections, tribal and belly dance, burlesque, and circus arts. Transcending familiarity with Tool, and even interest in heavy music, Vicarious creates a truly unique and mesmerizing audience experience.
What to expect in Chuck's classes:
Using your axe in a Metal Band – gear, techniques, and attitudes
Insane Gain – finding and using an uber-distorted sound
Re-Ruption – learning, adapting, and expanding iconic guitar solos
Be The Band – transcribing the charts and leading the string section on the next big tribute show
Surviving The Four-Gig Day – tips and tricks for the modern multi-style freelance instrumentalist
---
Matt Vanacoro -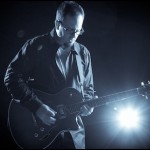 A graduate of Manhattanville College's music program and NYU's prestigious Music Technology program, Matt is a skilled pianist and composer with a strong background in contemporary music and jazz. Always a dynamic performer, Matt has studied jazz piano and guitar with New York Jazz Legends Charles Blenzig and Jay Azzolina.
Matt has integrated his love of composing and theory with his keyboard skills to craft the perfect fit for a myriad of live situations. He has performed, recorded and collaborated with local and national touring acts up and down the east coast in a range of styles from pop sensation Aaron Carter, NY jazz vocalist Amy Regan, Jordan Rudess of Dream Theater, Mark Rivera of Billy Joel and numerous others.
His music has been featured in television and film, from Oprah Winfrey's television show to films by Lionsgate. Matt's biggest influences as a musician are Trey Anastasio of Phish, Chick Corea and Al DiMeola of Return to Forever, and Herbie Hancock / Thelonious Monk. He endorses Nord Keyboards, Traveler Guitars, Gator Cases, Morely Wah Pedals and Source Audio distortion pedals. Facebook
What to expect in Matt's classes:
Keys/computer programming
Composing and arranging using the latest technology available
Jazz Improvisation
Dry humor with a dark twist
---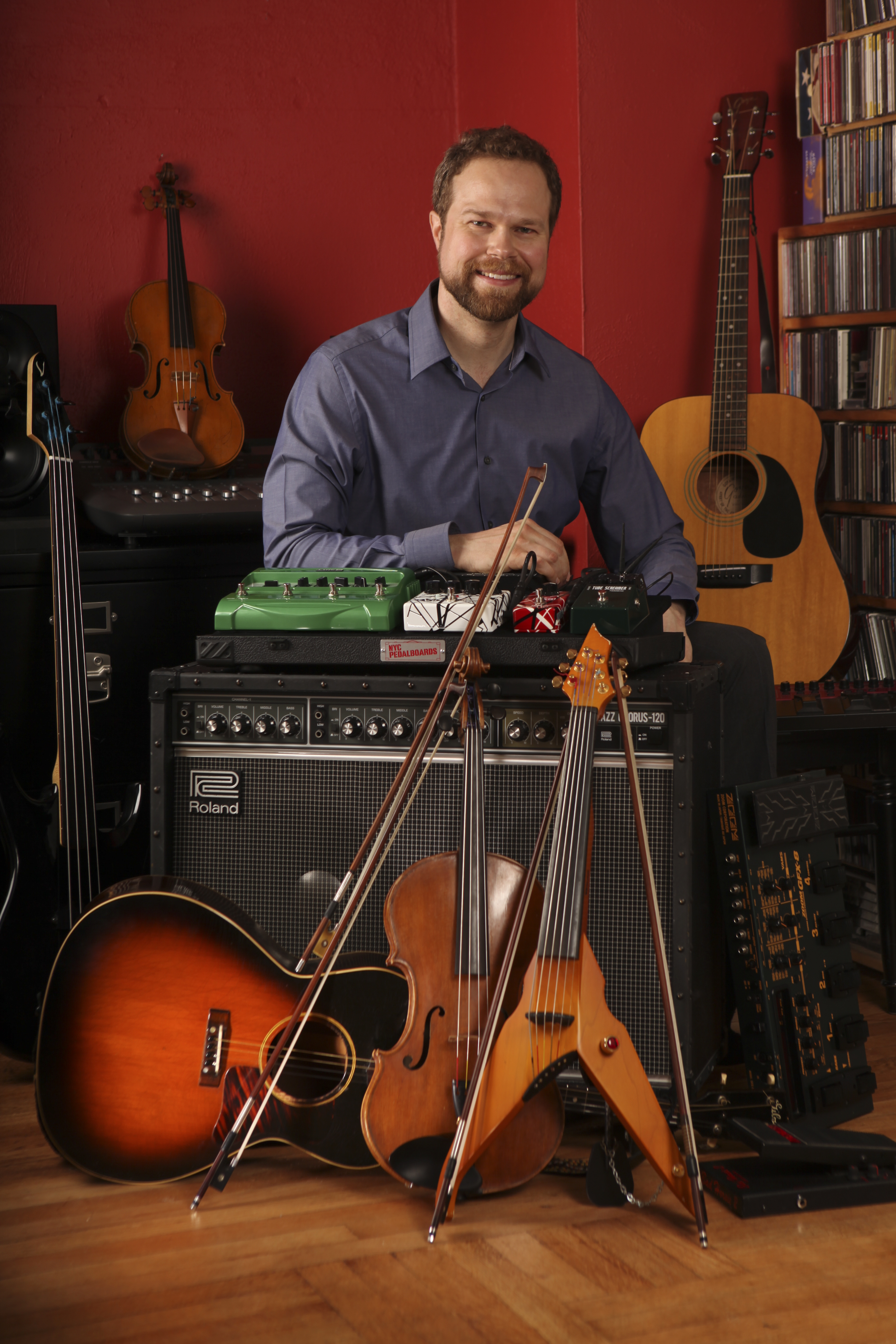 David Wallace - The New York Times compares 's David's solo improvisations to "Jimmy Page fronting Led Zeppelin." A faculty member of the Juilliard School and a Senior Teaching Artist for the New York Philharmonic, Dr. David Wallace is an internationally-touring musician; an award-winning composer; a Grammy-nominated performer; and a master teaching artist who has performed, consulted, and authored curricula for dozens of performing arts institutions.
A short list of David's clients and presenters includes Carnegie Hall, The Chamber Music Society of Lincoln Center, the Los Angeles Philharmonic, the New York Philharmonic, the Tanglewood Music Festival, Young Audiences, Midori and Friends, and the Pittsburgh Symphony.
Known for his mastery of eclectic styles ranging from all classical genres to fiddling, rock, and free jazz, David has also gained widespread acclaim for his ability to connect with audiences in diverse community settings. Never content to let music remain in the concert hall, David actively brings his artistry to schools, hospitals, psychiatric facilities, homeless shelters, houses of worship, and prisons. Symphony Magazine declares his book Reaching Out: A Musician's Guide to Interactive Performance "an invaluable manual for all musicians, classical or otherwise."
David's Texas-style string band, The Doc Wallace Trio, is celebrating its fourteenth year. Hear more at CD Baby. Watch videos of David's electrifying performances from MWROC 2011 at: YouTube
What to expect in David's classes:
Improvising in the free jazz context of New York's downtown scene
Playing the blues and soloing effectively
Learning to play Nahum: An Apocalyptic Prophesy for Electric Viola
Gaining shortcuts and secrets to better tone and technique
Developing compositional and creative ability
---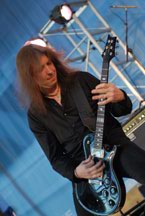 Jon Bivona is considered by many in the industry to be one of the premier guitarists in New York City. His talents and presence in the industry are diverse and exceptional. His work can be heard on the radio, television, CDs and during live performances.His playing has been featured on numerous television programs and networks such as NBC, CBS, ABC, USA, ESPN, ESPN International, Animal Planet and Outdoor Life Network. Jon has done all the guitar tracks for the Tour de France for the last three years, including the Emmy Award winning 2002 theme. Jon's work has also been featured on ESPN Sportscenter, the PGA Tour on USA Network, the US Open Tennis in 2003 and 2004 and the theme song for the Phil Simms All-Iron Man Show.
Jon currently performs with a multitude of bands and artists with ranging genres and trinfluences. These bands are Trans-Siberian Orchestra, The Mark Wood Band, The Sign, Lyza Wilson and the Shannon Breeze.Jon has been teaching guitar in the New York area for over 12 years to hundreds of students, teaching all styles and levels. Some of Jon's students have gone on to become successful recording artists as well as graduates from some of the top music schools in the country. World-renowned guitarist Al Pitrelli from Megadeth and Trans-Siberian Orchestra trained him.
Find out more about Jon:
www.jonbivona.com
Facebook
What to expect in Jon's classes:
Improvisation
How to "think" like a guitarist.
Pentatonic, Blues, Modes
The art of playing "outside" the scales
Arpeggios Rock Rhythms:
Learn your favorite rock riffs!…and much more!!!!
---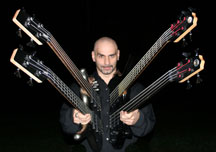 Paul Ranieri was born in New York City and raised in a musical and artistic environment. He started studying music and playing bass at age 11. Influenced early on by the music from cartoons, science fiction and monster movies; and then later by all the greatest rock, funk, and jazz bass players, Paul is now involved in many diverse musical projects and has developed a melodically ferocious and powerful playing style all his own.
With a degree in Jazz Performance from New York's New School University and Mannes College of Music, Paul's talents encompass a high level of technical expertise and professionalism. Paul is currently the bassist for producer, inventor, Emmy Award-winning composer, and highly acclaimed international recording artist Mark Wood, and has been touring the United States with Mark's "Electrify Your Strings" series of music education programs; working alongside Mark to participate in the creation of rock orchestras with student musicians at schools and universities across the nation.
Paul has been a teacher and music educator since 1990, having taught at San Diego's only professional bass shop and music school; Bass Alone and at Sam Ash Music University and also has a successful private teaching practice.Paul is also leader of the band Dangered Ace who's debut CD "GoTenGo" is being released this summer.
Find out more about Paul at www.paulranieri.com
What to expect in Paul's classes:
Modern Bass playing concepts and dexterity including developing your ability to play in all styles and handle all rhythms.
Your Partner in Crime – Playing with the drummer and being able to think as they do and match their playing.
Electric Bass Improvisation – Improving both your technique and increase your musical knowledge.
Slapping Techniques – How to apply modern slapping to any string instrument including special techniques like "The Ranieri Theory".
---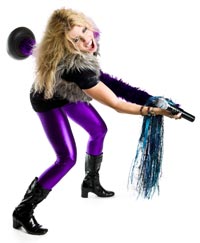 Laura Kaye is Vice President and co-owner of Mark Wood Music Productions, Wood Violins, and the Electrify Your Strings!™(EYS) series of music education programs and is Mark's wife. Along with their son Elijah (who frequently joins them onstage to play drums), Laura and Mark tour extensively with the EYS program throughout each year. As a vocalist, Laura has a lyricism and musicality all her own and is a rock and roll chanteuse whose take-no-prisoners voice invokes the likes of Steven Tyler and Aretha Franklin. Her latest CD "Shake Off the Gravity," was produced by award-winning composer and international recording artist Mark Wood (who co-wrote several of the tracks and plays his 7-string fretted Viper electric violin throughout), and features eight innovative, original songs that range from driving rock & roll to the intensely personal, and includes covers from Aerosmith, Humble Pie and Led Zeppelin.
Over the course of a career that began when she was a teenager, Laura has toured extensively as lead vocalist and songwriter for "The Laura Kaye Band" (featured on WAPP-FM's "New York's Best Bands Album" – the same series that helped discover Bon Jovi and Twisted Sister). She was a soloist for the 20-piece rock-and-roll choir "New Voices of Freedom," has worked with James Brown and Aretha Franklin, and has contributed to soundtracks and videos for U2, Lenny Kravitz, Sean Lennon, and the aforementioned Mark Wood. She sang on the Emmy-nominated composition "Dare to Dream," which was featured by CBS Television during the opening ceremonies of the 1998 Winter Olympics broadcast, and her voice can be heard on many jingles on TV and radio.
Her previous CD, "Sanctuary," a collaboration with Mark Wood, was released in 2001. Along with Mark and the rest of the Mark Wood Experience, Laura appeared in The Mark Wood Experience – Prologue on WLIW21 during the summer and fall of 2009, and was most recently featured on NBC-TV's The Today Show, along with Mark Wood and Elijah Wood, in a captivating story about their work with their EYSprogram.Find out more about Laura!
Find out more about Laura:
www.laurakayemusic.com
Facebook
What to expect in Laura's classes:
Performance tips and tricks
Vocal techniques that will give you stamina and strength
Every singer's essential arsenal for vocal health
How to own the spotlight and the stage
Let's improvise!
Private mini-lessons are available throughout the week
---
Elijah Wood is the son of Mark Wood and Laura Kaye, and has been the drummer in The Mark Wood Experience since 2006. He has performed in front of thousands of people in a wide variety of performance settings over the years and has studied with several prominent teachers, most notably Trans-Siberian Orchestra drummer Jeff Plate, who is his mentor.
In 2008, Elijah was the winner of Drumfight, a major NY area drum competition; thoroughly impressing the judges, including legendary drummer Carmine Appice with whom he performed at the 2010 NAMM Show in Anaheim, CA.
Elijah is also a featured drummer on many of Mark Wood's recordings for the CBS-TV national broadcast of the Tour de France. While Elijah's instrument of choice is drums, he also plays violin, piano, and guitar.
ELIJAH WILL BE TEACHING A RHYTHM CLASS AT MWROC 2014!
Visit Elijah online:
facebook.com/elijahwooddrummer
elijahwooddrummer.com
---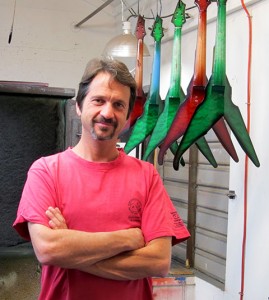 Joe Domjan has been Mark Wood's partner in crime over at Wood Violins for over 20 years.  As the shop manager and head luthier, Joe is a true artist in every sense of the word and masterfully designs and builds our Vipers, Stingrays, Sabres, and Cobras. Bringing with him over 30 years experience as a guitar and bass tech, Joe is a guitarist and bass player in his own right. He spent 15 years working in a traditional acoustic violin repair shop, where he mainly focused on school and rental repairs.  "It was like working in a MASH unit," Joe says of that time in his life. "Lots of casualties with very little time."
Joe bring his expertise and his sense of humor to his classes at MWROC, where you will participate in building an electric violin and learn how to master the maintenance of your own acoustic or electric instrument.
See Joe's work at the Wood Violins website.
www.woodviolins.com
---
This list is subject to change at any time.